Powerful Fitted Vacuum for RV's, Mobile Homes & Manufactured Homes
An affordable luxury that's a real convenience for your customers
Quick to Install
Motorhome manufacturers love the simplicity and functionality of Sweepovac. So easy to fit with just a single cut out, a single electrical outlet and no plumbing or piping. The result is a beautifully designed single point vacuum which includes a kick pan, a hose plug in point and an emptying tray all from the same location.
Of course with no plumbing and no piping there is little to go wrong. At less than 4" high it can be easily fitted in many different locations and takes up no valuable space. Re-usable bags means customers never have to worry about buying bags. Add in a two year replacement warranty and including Sweepovac as a standard item makes absolute sense.
Why our partners choose Sweepovac
A simple and affordable way to add real practical value for customers and to differentiate your offering from the competition. 
Why not join our growing partners like Fairmount Homes, Forest River Cardinal, Forest River Flagstaff, Bisson, Baileys Australia and other major RV manufacturers who put a high value on providing everyday convenience to their customers.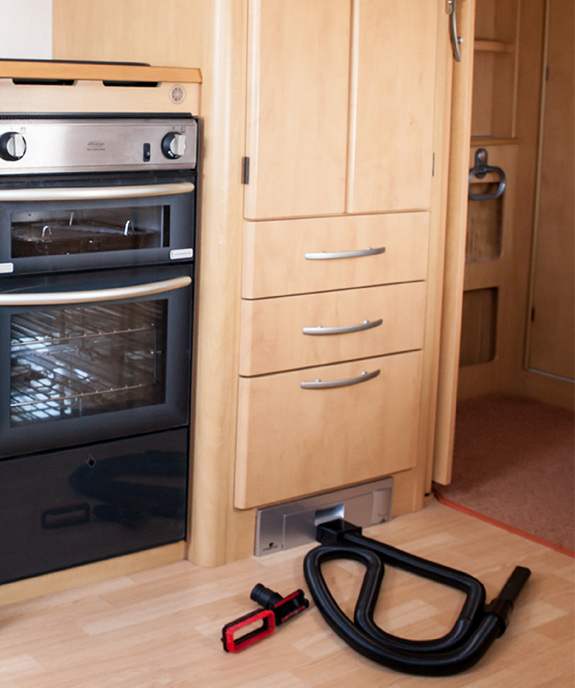 If you dont have it, get it.
Its awesome. My wife and I love this new addition. Easy to install and enough power to suck up everything we put in front of it.
I love them
I have installed many of these units and they all have worked great. I am a contractor that remodels kitchens, I always include these vacuums as a surprise extra at the end of a project. Clients always smile and show everyone. Works perfectly for me.
Well made. Easy to install and use
This thing is great. I had no problem installing it - very easy. It has great suction and the entire family loves it. Easy to replace the filter.
Great for the kitchen!
This little guy is awesome! If you don't have a central vac system, this is the perfect alternative to provide a vacuum feature in the kitchen.
Love it
Perfect for hardwood floors that you constantly have to sweep. It was fairly easy to install and I was using it within an hour. I saw this product on the today show and I knew I had to have it. I recommend this to all that have hard floors.