Sweepovac – Central vac for RV's & Motorhomes
Powerful – efficient – easy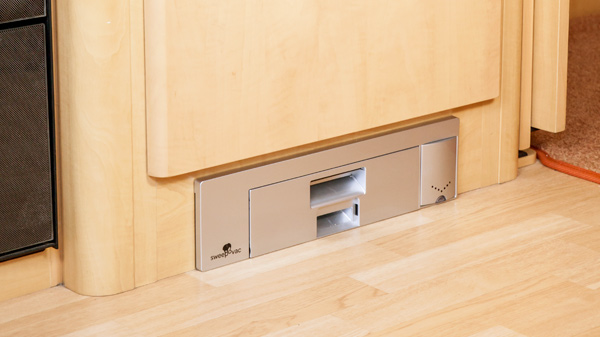 Keep your Motor Home or Caravan clean and tidy with no fuss and no hassle.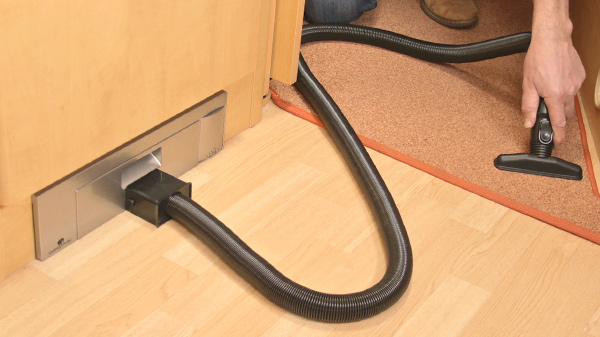 Just clip in the hose and vacuum your floor, your upholstery and even your pet.
The Ultimate Fitted Vacuum for Motorhomes & Caravans
As a caravanner you know that keeping your space organised and tidy allow you and your family to enjoy wonderful holidays together. Dragging in grass clippings, sea sand and pet hair can make for messy floors and upholstery. Sweepovac conveniently tucked away in the void space underneath your cabinets is the ultimate vacuum solution to this problem. Dirt can be swept to it and dispatched in seconds by just kicking the switch and allowing the powerful vacuum to suck in all floor sweepings.
For carpets, upholstery or those hard to reach places, simply plug in the easy to handle extendable hose. With 3 attachments provided, you will have carpets clean in a jiffy, upholstery spotless and pet hair under control. Easy to empty, just slide out the tray and empty. With re-usable and disposable bags included you have the choice of never buying bags again. Easy to fit – just a single opening to be cut and plugs into a regular electrical outlet (120V US/ 220-240V EU). No plumbing and no piping.
Powerful Suction – 5 times the power of most hand held vacuums

Reach Everywhere – easy to handle clip on hose extends from 6ft to 18ft (1.8m – 5.5m)

Re-usable bags – never buy bags again

Hepa Filter – excellent air quality